Crews recently broke ground on Phase One of the V3 Center; this is the beginning of something very big for TRI-Construction's CEO and Founder Calvin Littlejohn. This project literally hits home for him and we're proud to partner with Calvin and his team on a world class facility built for the community, and just as importantly, built by the community.
V3 Center is the project Calvin Littlejohn has been waiting for… for a long time.
Sure, Calvin Littlejohn is running a business. But he is unapologetic, as he should be, about employing, empowering and growing the number of BIPOC and women employees in the local construction trades. Littlejohn's colleagues and contractors aren't just building buildings; they're building communities. And it's not just happening brick by brick, it's happening person by person.
"I think as a business owner in North Minneapolis, and as a resident in North Minneapolis, I want North Minneapolis to be a destination place, not a 'drive through' place. People are trying to go from one place to the other and just make it through North Minneapolis. No, I want to change that. We must change that! This is a wonderful community and I think the more opportunities, the more amenities, the more business we bring in, the more restaurants you will see… our community starts to change," he explains.
Littlejohn is the CEO and one of the founders of TRI-Construction. For more than 20 years he has been strategic and intentional as he studies and analyzes his industry to open doors for people of all colors. His passion for his community landed him smack dab in the middle of the V3 Center project. Littlejohn will be the man coordinating the crews who will build this community centerpiece from the ground up.
"Who else is there over in North? For us, it was about how do we be there from the very beginning, understanding the project, helping price the project, making sure from a community standpoint we are getting diverse contractors involved. A lot of it is me picking up the phone and calling in and touching base and making sure that people have the information they need."
If you think it sounds like a challenging, 24/7 type of job, you're absolutely right. For one, finding the right Black, Indigenous, people of color (BIPOC) contractors, with diverse employee bases, isn't as easy as picking up that phone and asking folks to come on over to Lyndale and Plymouth Avenues with hammers and tape measures. "Secondly, understanding the capacity of the minority subcontracting community (is key). This project is meant to be a wonderful opportunity for companies to grow and to expand their capacity."
TRI-Construction, and other BIPOC-owned business, often work to secure contracts on projects where hiring workers of color is a priority. But sometimes reaching those initial goals turns into an impossibility. Smaller contractors have struggled trying to compete with the prices that larger contractors offer. The big fish get the supplies at cheaper rates, allowing them to offer the necessary services cheaper. It's not an easy business cycle for BIPOC-owned contractors to break.
"Now, if I take a step back and I look at the African American experience, our businesses are very small, right? So, what we're proposing is your community is only as strong as its business sector. In order to get more Blacks or minorities into the construction trade, we've got to bolster businesses. And if we can raise up our Black businesses from a construction lens, you will see a direct hire, direct correlation, a direct relationship, because Black businesses know the Black people that we will hire. They're individuals from our community, so we will see those numbers rise."
A September, 2020 Star Tribune article titled "Minority-owned firms seek leading role in reconstruction of Twin Cities", which featured Calvin and his company prominently, noted a study finding "that just 2.8% of state procurement dollars in the construction field went to minority-owned businesses – and just .02% to Black-owned firms – a far lower rate than the study's projection based on availability."
Calvin Littlejohn, alongside V3, will offer a groundbreaking opportunity for hundreds of skilled tradesmen and women of color who will build a beacon of hope and opportunity for the entire northside.
"I think ownership in one's community is the fundamental foundation of pride, right? When you own part of it, have stake in it, it's yours. You care about it, you're vested, you're protected and you'll be proud of it. That's what's been missing. We've had broken promises. People come and talk about developments that don't happen. They either aren't built, or they're built by others. I think that's what's so wonderful about V3 is the intent. In North Minneapolis there is a direct, unapologetic conversation about how do we hire more black businesses, how do we make sure there are more African American (men and women) working on this project? I love that direct call to action," Littlejohn said.
It is almost impossible to put into words the passion that TRI-Construction's owner has for his community, and for those who struggle to find their niche in an industry that has, for so many years and so many reasons, made it difficult for people of color to breakthrough. But because of people like Calvin Littlejohn, progress is being made. And because of projects like the V3 Center, communities are being built brick by brick AND person by person.
For Calvin Littlejohn, building two world class pools so V3 can offer lifesaving swimming lessons in the heart of North Minneapolis is a personal journey.
"It's a shame for me to say that I'm a black man who doesn't know how to swim. This (V3 Center) is needed. Because I didn't grow up learning how to swim, or knowing how to swim, we're making sure our kids don't repeat that. How much are we in the African-American community and minority communities missing out on? So, when this place is open, I can get in and enjoy it! But more importantly, I can start having fun with my family. When people start enjoying water activities, I won't be the one standing on the sideline anymore," he concluded.
Check out the video below for the full interview with Calvin Littlejohn.
Are you interested in learning more about V3, aquatic learning opportunities, or staying up-to-date on our 2023 adventures? Click here to connect!
FOX 9 News Interview, December 5, 2022 - By: Bisi Onile-Ere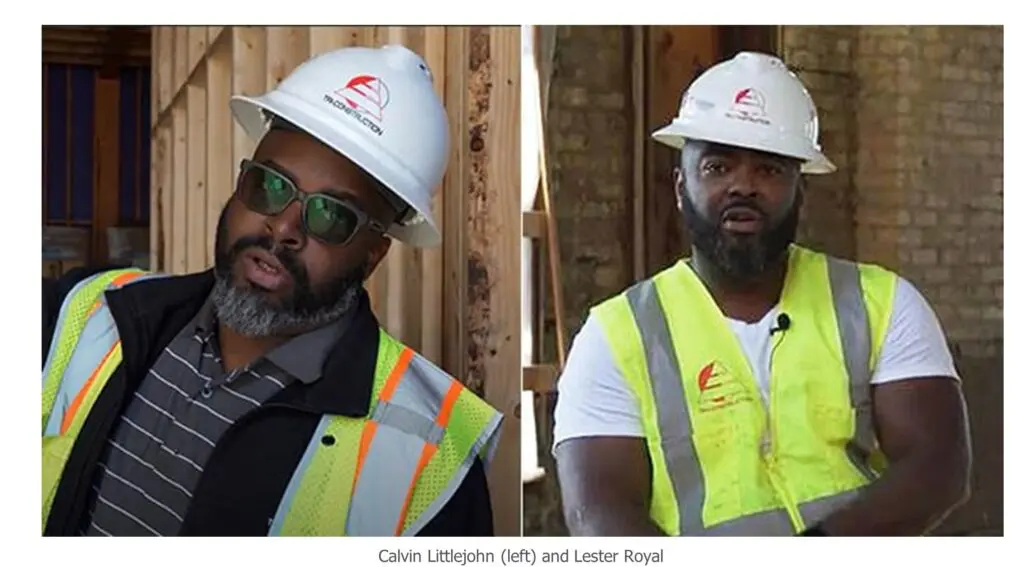 TRI-Construction founders Calvin Littlejohn and Lester Royal started small.
"Two brothers and a truck," Royal recalls. "And one ladder," he adds, cracking up himself and Littlejohn, whose attic, with its lone desk, served as their first office.
From those humble beginnings, Littlejohn and Royal have built TRI-Construction into a general contracting firm with close to $14 million in revenue last year and 54 employees.
Their headquarters now is in a building at 927 W. Broadway Ave. in north Minneapolis. TRI-Construction renovated and expanded the 130-year-old building.
The construction company is set to own the structure in 10 years, buying it under a unique partnership with the Jay & Rose Phillips Family Foundation of Minnesota, an effort that seeks to build wealth for local businesses and the broader neighborhood.
The 19,000-square-foot, $7 million project also serves as headquarters for the Phillips Foundation, which will have office space and a rooftop deck available for community groups to reserve for meetings. Other tenants include the city of Minneapolis' Office of Violence Prevention, the Zen Bin, offering wellness services and fitness classes; and Urban Homeworks, a nonprofit affordable housing developer. The 927 building will feature art from local Black artists and an outdoor plaza that will be built out next year.
"It is a sobering time, a proud moment," said Littlejohn, TRI-Construction CEO. "To think that two guys who had an idea about how do we create access to opportunity for people who look like us, who are marginalized in the construction realm, who don't really get the opportunities to grow … and now we've got this."
From handymen to general contractors
Royal, TRI-Construction's chief operations officer, was a union carpenter and Littlejohn a union laborer when they launched a handyman service in 2001.
It since has grown into a union general contracting company that self-performs construction of drywall assemblies. TRI-Construction partners with big contractors including Mortenson, Watson-Forsberg and J.E. Dunn, Littlejohn said. Projects the company has worked on include Target Center and on stadiums for the Twins, Vikings, Minnesota United FC, St. Paul Saints and University of Minnesota.
"From a business standpoint, there is a need on projects for diverse [contractors]," Littlejohn said. "What matters to Lester and myself is not just that we are a certified Black-owned business, but when you look at TRI-Construction employees, our craftworkers run about 70% diverse. Our management and our office staff, that runs about 80%."
927  building a focus
Royal and Littlejohn live in north Minneapolis and intentionally located TRI-Construction — and its payroll of nearly $6 million last year — there. "It's important that the community dollars stay in the community," said Royal, who has two sons working at TRI-Construction. "It's important to us that we stay rooted, we stay grounded, that we wave a flag and say we're right here in north Minneapolis and in our community."
The 927 building, a dilapidated but promising redevelopment target on north Minneapolis' prime corridor, had long been in the sights of TRI-Construction's founders. The company was attached to the building after helping to price potential development projects "but always an outsider, as a construction company," Littlejohn said. "There was never really any conversation about us figuring out how to be part of a deal."
That changed after James Terrell, program director of the City's Commercial Development Property Fund, made the Phillips Foundation aware of TRI-Construction and the 927 building, according to Joel Luedtke, a program director who works on behalf of the Phillips Foundation, which the family founded in 1944.
Foundation ties to north Minneapolis
The Phillips' parents were among Russian Jewish immigrants who settled in north Minneapolis. U.S. Rep. Dean Phillips, a foundation director, said in a video on the foundation website that his great-grandmother Rose was born at 709 Plymouth Ave. N. Her father had bought the building and operated a store there.
"The North Side was our family's home in the very beginning," Phillips said in the video, which shows him chatting with Royal and Littlejohn inside the 927 building while construction was underway. "Just because we don't live here anymore doesn't mean that our responsibility ends. Our affection for the North Side continues."
The foundation shifted its focus to north Minneapolis in 2016, Luedtke said, prioritizing supporting public schools there and increasing local commercial ownership opportunities while looking to relocate to the neighborhood.
"'TRI' seemed like the perfect partner," Luedtke said. "It seemed like we were well suited to each other."
TRI-Construction and the foundation have met weekly since the partnership began in 2018. An opening event for project partners is to take place on Oct. 27, 2022.
"This is not a project that either one of us had done before," said Jo-Anne Stately, director of impact strategy economic vitality for the Minneapolis Foundation, which provides services to the Phillips Foundation under a "strategic operating partnership" announced last year. "There were certainly a lot of unknowns that were part of the process. But it didn't stop us."
A small opening event for project partners is to take place on Oct. 27, Stately said, while a bigger community open house will take place in the spring at the 927 building.
The partnership with TRI-Construction comes as the Phillips Foundation makes grants and investments to support other Black developers in north Minneapolis, Luedtke said, adding, "We would be very interested in having conversations about how we can support those who are doing the heavy lifting of making these development projects happen."
'Flagship example'
From TRI-Construction's new home in the 927 building, Royal and Littlejohn look across the street to what they hope will be their next redevelopment venture, an abandoned building at 1001 West Broadway Ave. TRI-Construction, which is busy the rest of this year and into 2023, also is looking to make key hires and strengthen its organization.
"This is a flagship example of how things could be and should be," Royal said of the partnership with the Phillips Foundation. "Here's a way to see how you can take two different generations, two different ethnicities, two different ways of doing business and merge them together for a greater cause."
TRI-Construction
Headquarters: Minneapolis
CEO: Calvin Littlejohn
Employees: 54
Revenue: close to $14 million
Founded: 2001
Copyright © 2022 Finance & Commerce | Suite 900, Campbell Mithun Tower, 222 South Ninth Street, Minneapolis, MN 55402 | (612) 333-4244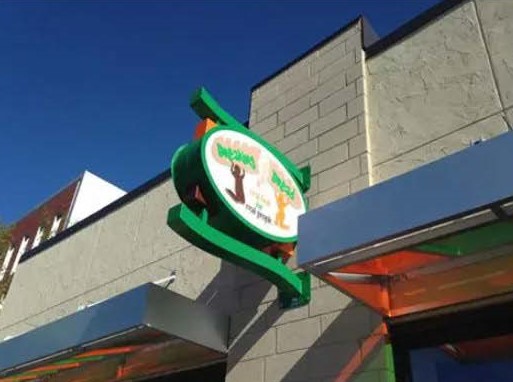 TRI-Construction + Knutson build HUB in North Minneapolis
TRI-Construction partnered with Knustson Construction to bring a social services building to North Minneapolis. The building is part of a new initiative that will introduce 6 new social services building to the twin cities in the next few years.
TRI-Construction Partners with Breaking Bread for opening of Cafe in N. Mpls
TRI-Construction had the privilege to serve as the General Contractor for the opening of Breaking Bread Cafe - a North Minneapolis cafe that features healthy, home-style cooking while focused on community involvement. TRI-Construction worked alongside Breaking Bread to help make their dreams come to reality and make a plan from inception into fruition. Stop by and check out the amazing space while enjoying some of North Minneapolis' best cuisine.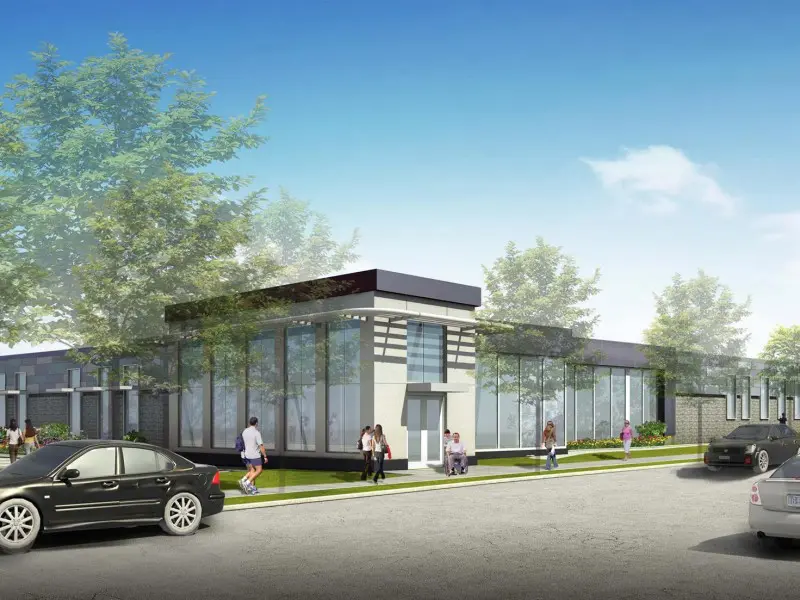 TRI-Construction Receives Workforce Diversity Award
TRI-Construction was awarded the Workforce diversity achievement award for the work done at the Minnesota Twins Stadium.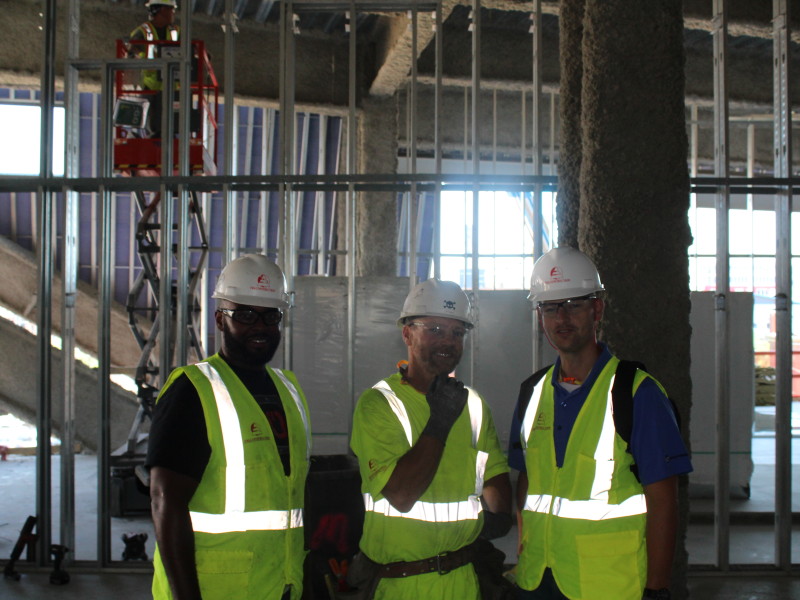 Developing the future minority workforce by delivering on the promise of our core values.
Reaching back and pouring into my community is more than just a thought but action and it starts with my company. It is of great importance that we as a company keep a clear understanding of what it means to empower the future of our community. I have had the privilege to speak to a number of students at Summit Academy OIC in north Minneapolis. The subject matter of this meeting was preparing for business ownership, continuing education and a few motivational highlights of TRI-Construction projects. TRI-Constructions core values and commitment to community, clients and development are key to mentoring a strong workforce. It is exciting and empowering to mentor future minority workers and reinforce the message of importance of continuing education and creating a clear path to success.